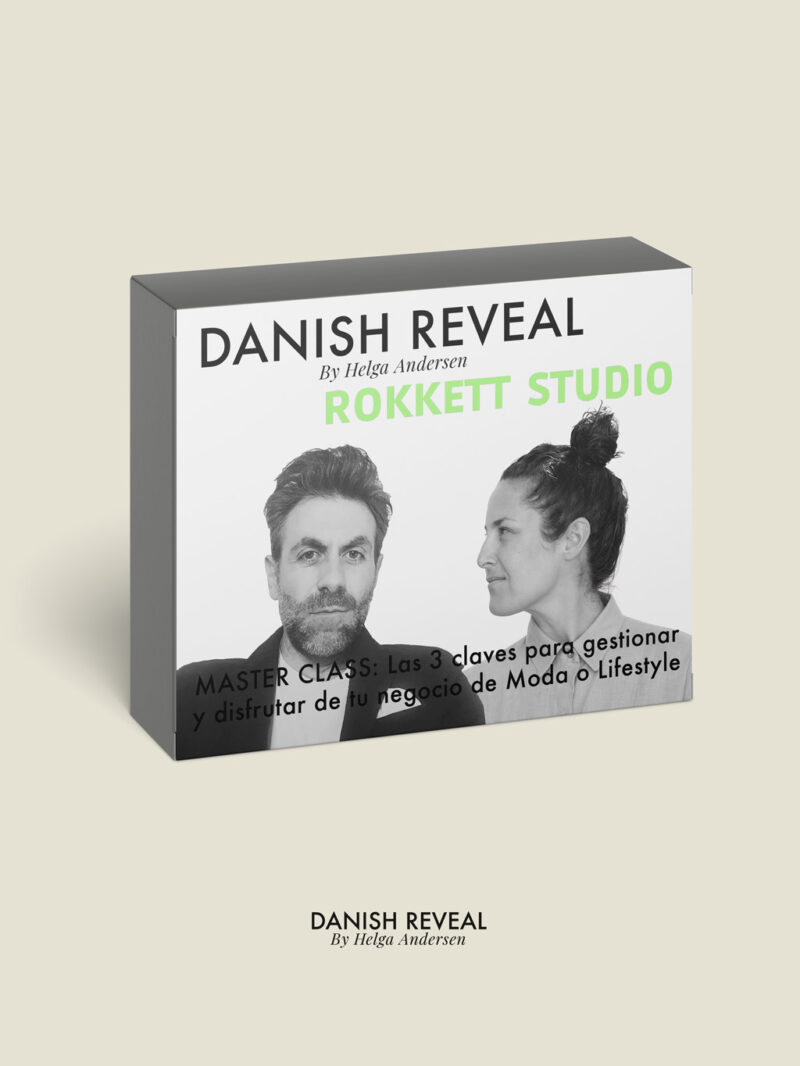 MASTER CLASS: Las 3 claves para gestionar y disfrutar de tu negocio de Moda o Lifestyle
¿Tienes un proyecto de Moda / Lifestyle, o  vas a lanzar uno?
Si quieres aprender las claves para tener el control de tu negocio, ganar claridad en tu estrategia, y poder disfrutarlo, esto es para ti. Desde DANISH REVEAL invitamos a nuestra Comunidad a una Master Class sobre gestión de negocios de Moda y Lifestyle, en colaboración con Myriam Ponce de León y Stefano Soncina, fundadores de la consultoría táctica de Moda y Lifestyle  Rokkett Studio:
Canal:

Zoom 

Duración:

2 horas 

Fecha: Jueves 29 septiembre

 2022. 

Hora:

de

18:00 a 20:00 hora Madrid

Precio: Gratuito. Cortesía de DANISH REVEAL y Rokkett Studio.
El plazo para inscribirse se abrirá en septiembre pero si quieres confirmar desde ahora tu asistencia o conocer más información escríbenos sin ningún compromiso a [email protected]
Description
Desde DANISH REVEAL, te invitamos a una Master Class de la mano de Stefano Soncina y Myriam Ponce de León, fundadores de Rokkett Studio, la consultoría táctica que nace para resolver los atascos reales que surgen en los negocios de Moda y Lifestyle: no te cuentan humo, te comparten su experiencia, metodología y herramientas prácticas adquiridas en multinacionales como ZARA y PUMA, y en Start-ups como HEMPER y MOTI REVOLUTION.
¿Qué vas a aprender en esta Master Class?
¿Cuál es el dolor de tu cliente?: De esta manera tendrás claro quién es tu cliente, qué necesita y cómo llegar a él.
Cómo controlar las 4 áreas clave de tu negocio de forma eficiente y rentable: Aprenderás cómo estructurar las áreas principales de tu proyecto: Diseño, Compras. Fabricación y Ventas; además de cómo aplicar una correcta metodología para que la gestión de tu negocio funcione en piloto automático.
Cómo planificar tu estrategia para petarlo en ventas: Entenderás la importancia de implementar un calendario que fusiona las principales áreas del negocio. Sin calendario, no hay rumbo para tu proyecto.
Más información en: [email protected]
---
ENG
From DANISH REVEAL, we invite you to a Master Class with Stefano Soncina and Myriam Ponce de León, founders of Rokkett Studio, the tactical consultancy that was born to solve the real bottlenecks that arise in Fashion and Lifestyle businesses: they share their experience, methodology and practical tools acquired in multinationals such as ZARA and PUMA, and in Start-ups such as HEMPER and MOTI REVOLUTION.
What will you learn in this Master Class?
What is the pain of your customer?: This way you will be clear about who your client is, what they need and how to reach them.
How to control the 4 key areas of your business in an efficient and profitable way: You will learn how to structure the main areas of your project: Design, Purchasing. Manufacturing and Sales; as well as how to apply a correct methodology so that the management of your business works on autopilot.
How to plan your strategy to succeed in sales: You will understand the importance of implementing a calendar that merges the main areas of the business. Without a calendar, there is no direction for your project.
More information at: [email protected]