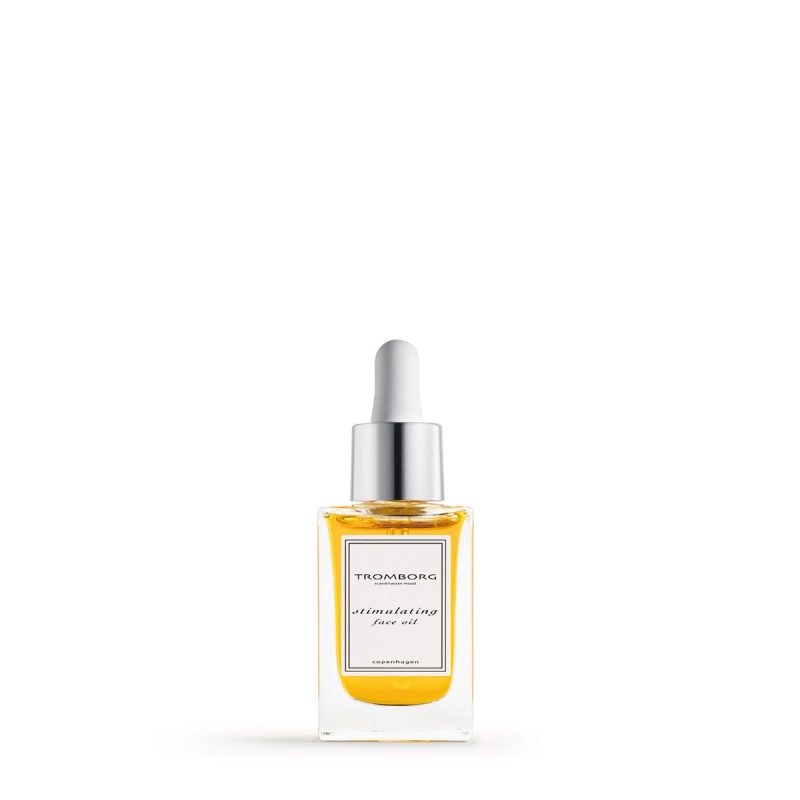 Face Oil Stimulating
70,00€
Essential oils serve the plants' needs before they serve ours: What they do for us, they have already done for the plants. By nature, essentials oils consist of complexes with hundreds of different compounds. They orchestrate the production of the plant's vitamins and enzymes and have an overall regulating effect on how the plant functions.
Essential oils work as messengers – they are coaching the plant, so to speak, as they help it initiate and coordinate vital activities. Essential oils are also known as the plant's "life blood". The active substances of the oils circulate through the tissue of the plant and through the cell membranes; they bring in nutrients and take out waste products. As a matter of fact, essentials oils are one of nature's best cleaners.
In the form of aromatic compounds (molecular circular systems) essential oils possess what is known as homeostatic intelligence. They are constantly at work restoring and keeping the balance of the body and thus also the skin – homeostasis simply means balance.
The base of the three oils consists of oils from macadamia nut, rose hip seed, safflower and kukui nut along with calendula and vitamin E.
Cold-pressed organic macadamia nut is one of nature"s own miracles because of its high content of palmitol and omega-3 and omega-6 fatty acids among other things. They stimulate the skin's defence mechanisms and restoration process which is vital in order to delay aging of the skin. Regenerating and moisturizing.
The cold-pressed organic oil kukui nut oil from Hawaii – also known as the natural skin therapeutic wonder of Polynesia – has been used by the Polynesians for centuries to cure skin disorders such as psoriasis and acne and to protect the skin from sun, salt and the elements. Kukui nut oil has proven especially efficient in soothing burns, including sun burn.
The cold-pressed organic rose hip oil, extracted from the seeds of wild rose, is one of the most amazing skin replenishers known with an extremely high number of potent vitamins and anti-oxidants that help to strengthen the skin and make it resilient. It works wonders for sensitive skin and cases of acne and is anti-inflammatory. It repairs damaged skin and has an anti-aging effect as it reduces fine lines and pigmental flaws. Enhances the production of collagen in the fibroblast cells. The oil has a protecting effect, aids cell regeneration and improves the texture in the epidermis. A magical ingredient for all skin types.
Another main ingredient is safflower – cold-pressed and organic, of course. With a copious content of linoleic acid (an essential fatty acid) it assists in maintaining the integrity of the skin cell membrane. Linoleic acid is an important carrier of vitamins A, D and K and not least of the anti-oxidant vitamin E – they all work to reduce wrinkles and they moisturize and smoothen the skin. In addition, they reduce the occurrence of blackheads and give a healthy appearance.
All in all, a base consisting of the most wonderful oils working together to make the skin less irritated which provides for a calmer and more clear skin that is fabulously radiant.
The oils come in three varieties:
Detox: lavender, eucalyptus and peppermint Mitcham. The essential oils have a cleansing effect and are marvellous for sensitive and problematic skin.
Stimulating: grape fruit, vanilla, rosemary, lemon grass and lemon balm. The essential oils have a positive effect on performance and are invigorating and stimulating.
Anti-stress: lavender and vanilla. The essential oils are de-stressing and reduce tension; they bring a feeling of well-being, tranquillity and balance.
Use daily – or when needed – after cleansing the skin, either before or after the usual moisturizer and/or serum routine. Magical for a facial massage – gives the skin intensity and makes it glow.
30 ML.