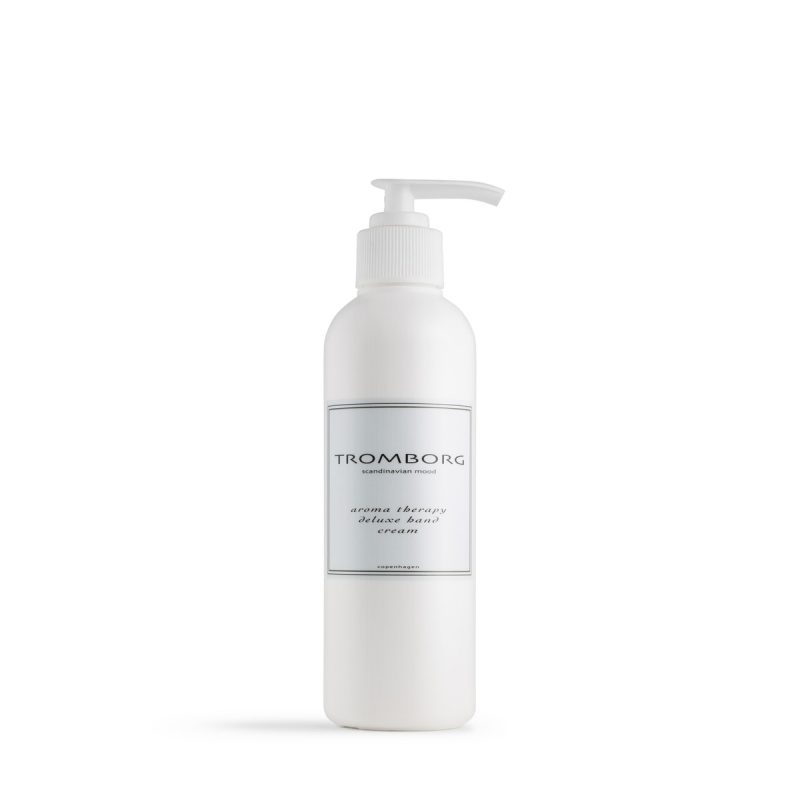 Aroma Therapy Deluxe Herbal Hand Cream
40,00€
Tromborg Aroma Therapy Deluxe Herbal Hand Cream is a great emollient and nourishing hand cream filled with nature's miracles. It includes Shea Butter and Aloe Vera that repairs, soothes and are magical moisturizers. The cream contains over 20 wonderful organic active plant extracts and the ingredient list is a long love letter. We have listed some of them here – all organic, of course:
Calendula: Heals, protects and nourishes sensitive and problematic skin while repairing, calms and has healing effect as well. It energises and softens the skin.
Orange Oil: Has amazing anti-inflammatory properties and helps to detoxify congested skin while soothing dry, irritated skin. Increases the production of collagen and prevents the formation of wrinkles.
Pink Grapefruit Peel Oil: Contains the enzyme Brome lain, which speeds up the metabolism of proteins in the skin's outer layer, and thus helps to cleanse the skin by removing the older, outer skin cells. Furthermore, it balances the skin's pH. The skin becomes softer, smoother and fresher looking. Rich in antioxidants that fight free radicals and has a high concentration of flavonoids, which nourishes and protects. At the same time it is rich in vitamin C, which stimulates the production of collagen and thus maintains and enhances skin elasticity and reduces hyper pigmentation. In addition, this miraculous oil also works as an effective antiseptic, astringent, anti-inflammatory, detoxifying, soothing and toning oil. High content of active phenols, flavonoids, ascorbic acid, carotenoids and reducing sugars give highest antioxidant potential.
Pelargonium Graveolens Oil: This oil content of active ingredients creates a balance between oily and dry skin as it balances the production of sebum. This balance also helps to increase and improve skin elasticity. Stimulates the lymphatic system so that excess water is released and swelling alleviated. Especially formulated as astringent, antiseptic and anti-microbial ingredient.
Yarrow, Fennel and Rosemary: Antibacterial, anti-inflammatory and universal antimicrobial. Heals and moisturizes dry and irritated skin.
Chamomile: Useful for sensitive skin, reduce redness of the skin, reduces the appearance of broken capillaries and is very soothing. Anti-inflammatory, antiseptic and has healing properties. Chamomile extract keeps active flavonoids, which are particularly good for the care of sensitive skin on your hands. These flavonoids are effective against inflammation via inhibition of histamine release – a naturally occurring molecule, causing itching and redness.
The organic Chamomile extract is rich in vitamin B, alpha-bisabolol and phenolic derivatives as an antiseptic, anti-inflammatory and healing extract – super useful to soothe the skin on your hands exposed to the elements. The skin is less irritated, resulting in smoother, clearer skin.
Absorbs quickly and is not greasy.
200 ML.